The team behind Copenhagen Fertility Center was a part of the team making the first IVF baby in Denmark in 1983.
Copenhagen Fertility Center has the most advanced equipment and updated knowledge in treatment concerning artificial reproductive technologies.
This is secured by continuous studies, research and education. The Copenhagen Fertility Center also has an elaborated Fertility School. All of this to secure the best team for treating Danish and foreign patient in the best way.
The founder of Copenhagen Fertility Clinic Professor Dr. med. Svend Lindenberg was one of the 3 doctors creating the first IVF baby in Denmark.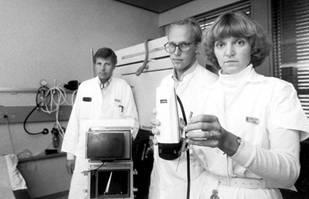 1992 the start of a new treatment. Dr Svend Lindenberg, Dr. Suzan Lenz and Dr. Glenn Lauritsen.
Copenhagen Fertility Center offers all types of fertility treatments