Copenhagen Fertility Center is now offering the combination of endometrial priming and co culture of endometrial epithelial cell and the woman's embryo in one go.
In several years priming of the endometrial lining during an IVF cycle has been shown to improve the pregnancy rate among old women and women with repeated implantation failures. This priming has been done by taking a biopsy in the cycle prior to the IVF treatment cycle.
This priming was done in the cycle before, not to disturb the treatment cycle. However, other studies has reported a beneficial effect of priming done in the same cycle as the embryo transfer took place, not observing any disturbances of the later implantation, but also here an increase pregnancy rate is observed.
This priming procedure is thought to enhance growth factors in the endometrial tissue and hence promote and help the implantation.
Another way of helping the implantation process is to already mimic the endometrial embryonic interaction, which we know is vital in vivo situation for a perfect implantation to take place. This is done by culturing endometrial epithelial cell in co culture with the embryo form the IVF procedure. However, previously this has been difficult to handle in the clinical situation, due to either using foreign endometrial cells (which is not allowed due to the EU tissue directive), or freeze endometrial biopsies taken in previous cycles from the same women. These cell are not always in optimal condition after the frozen- thawn procedure.
Copenhagen Fertility Center has therefor devised a totally new concept of priming and co culture in the same treatment cycle, and now proved this to work in enhancing pregnancy rate in difficult IVF cases as repeated implantation failures.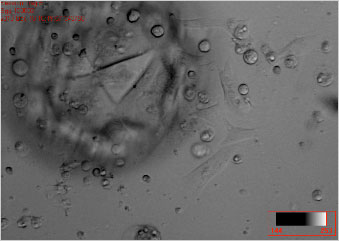 A co-culture of a human blastocyst and endometrial cell in vitro. Please note the many vesicles communicating between the embryo and the endometrial monolayer.
---
Referencer
Lindenberg S, Hyttel P, Sjogren A. A comparative study of attachment of human, bovine, and mouse blastocysts to uterine epithelial monolayer. Hum Reprod 1989; 4:446-456.
Embryologic outcome and secretome profile of implanted blastocysts obtained after coculture in human endometrial epithelial cells versus the sequential system
Francisco Dominguez, Blanca Gadea, Amparo Mercader, Francisco J. Esteban, Antonio Pellicer, Carlos Simón
Fertility and sterility 1 February 2010 (volume 93 issue 3 Pages 774-782.e1 DOI: 10.1016/j.fertnstert.2008.10.019)
Beneficial effect of autologous endometrial cell coculture in patients with repeated implantation failure Victoria Eyheremendy, Fernanda G.E. Raffo, Mercedes Papayannis, Julia Barnes, Cintia Granados, Jorge Blaquier
Fertility and sterility 1 February 2010 (volume 93 issue 3 Pages 769-773 DOI: 10.1016/j.fertnstert.2008.10.060)
Bongso A, Ng SC, Fong C-Y, Ratman S. Co cultures: a lead in embryo quality improvement for assisted reproduction. Fertil Steril. 1991;67:120–122
Barmat LI, Liu HC, Spandorfer SD, Veek l, Damario M, Rosenwaks Z. Human preembryo development on autologous endometrial coculture versus conventional medium. Fertil Steril. 1998;70:1109–1113
Menezo Y, Hazout A, Dumont M, Herbaut A, Nicollet B. Coculture of embryos on Vero cells and transfer of blastocysts in human. Hum Reprod. 1992;7(Suppl 1):101–106
Jayot S, Parneix I, Verdaguer S. Coculture of embryos on homologous endometrial cells in patient with repeated failures of implantation. Fertil Steril. 1995;63:109–114
Barmat LI, Liu HC, Spandorfer SD. Autologous endometrial co-culture in patients with repeated failures of implantation after in vitro fertilization-embryo transfer. J Assist Reprod Genet. 1999;16:121–127
Rubio C, Simon C, Mercader A. Clinical experience employing co-culture of human embryos with autologous human endometrial epithelial cells. Hum Reprod. 2000;15(Suppl 6):31–38
Mercader A, Garcia-Velazco J, Escudero E, Remohi J, Pellicer A, Simon C. Clinical experience and perinatal outcome of blastocyst transfer after coculture of human embryos with human endometrial epithelial cells. Fertil Steril. 2003;80:1162–1168
Spandorfer SD, Pascal P, Parks J, Clark R, Veeck L, Davis OK, et al. Autologous endometrial co-culture in patients with IVF failures: outcome of the first 1030 cases. J Reprod Med. 2004;49:463–467
Spandorfer S, Park J, Davis O, Clarke R, Rosenwaks Z. A case controlled study evaluating autologous endometrial coculture (AECC) as an effective tool for young patients (age under 36 years) with multiple failed IVF attempts and diminished ovarian reserve. Fertil Steril. 2007;88(Suppl 1):O-275
Barash A, Dekel N, Fieldust S, Segal Ll, Schechtman E, Garanot I. Local injury to the endometrium doubles the incidence of successful pregnancies in patient undergoing in vitro fertilization. Fertil Steril. 2003;79:1317–1322
Menezo Y, Guerin J, Czyba J. Improvement of early human embryo development in vitro by coculture on monolayers of Vero cells. Biol Reprod. 1990;42:301–306
Nieto F, Watkins W, Lopata A, Baker G, Edgar D. The effect of coculture with autologous cryopreserved endometrial cells on human in vitro fertilization and early embryo morphology: a randomized study. J Assist Reprod Genet. 1996;13:386–389
Simon C, Pellicer A. Interleukin-1 system crosstalk between embryo and endometrium in implantation. Hum Reprod. 1995;10(Suppl 1):11
Spandorfer SD, Barnat LI, Liu HC, Mele C, Veeck L, Rosenwaks Z. Granulocyte macrophage stimulating factor production by autologous endometrial co-culture is associated with outcome for IVF patient with a history of multiple implantation failures. Am J Reprod Immunol. 1998;40:377–381
Spandorfer SD, Neuer A, Liu HC, Bivis L, Clarke R, Veeck L, et al. Interleukin-1 levels in the supernatant of conditioned media of embryos grown in autologous endometrial co-culture: correlation with embryonic development and outcome for patient with a history of multiple implantation failures. Am J Reprod Immunol. 2000;42:6–11
Spandorfer SD, Navarro J, Levy D, Black AQR, Liu HC, Veeck L, et al. Autologous endometrial co-culture in patient with IVF failures: correlation of outcome with leukemia inhibiting factor (LIF) production. Am J Reprod Immunol. 2001;46:375–380
Bendikson K, Park J, Rosenwaks Z, Spandorfer S. Do cytokine levels in the supernatant from conditioned media of embryos grown in autologous endometrial coculture correlate with pregnancy outcomes after in vitro fertilization?. Fertil Steril. 2007;(Supp 1):88;O-152
Barmat LI, Liu HC, Spandorfer SD, Veek L, Damario M, Rosenwaks Z. Importance of the biopsy date in autologous endometrial cocultures for patients with multiple implantation failures. Fertil Steril. 2002;77:1209–1213Arnold JT, Kaufman DG, Seppala M, Lessey BA. Endometrial stromal cells regulate epithelial cell growth in vitro: a new co-culture model. Hum Reprod. 2001;16:836–845
Simon C, Mercader A, Garcia-Velasco J, Nikas G, Moreno C, Remohi J, et al. Coculture of human embryos with autologous human endometrial epithelial cells in patients with implantation failure. J Clin Endocrinol Metab. 1999;84:2638–2646
Mercader A, Garcia-Velasco JA, Escudero E, Remohi J, Pellicer A, Simon C. Clinical experience and perinatal outcome of blastocyst transfer after coculture of human embryos with human endometrial epithelial cells: a 5-year follow-up study. Fertil Steril. 2003;80:1162–1168
Simón C, Gimeno MJ, Mercader A, O'Connor JE, Remohí J, Polan ML, et al. Embryonic regulation of integrins beta 3, alpha 4, and alpha 1 in human endometrial epithelial cells in vitro. J Clin Endocrinol Metab. 1997;82:2607–2616
Simón C, Mercader A, Garcia-Velasco J, Nikas G, Moreno C, Remohí J, et al. Coculture of human embryos with autologous human endometrial epithelial cells in patients with implantation failure. J Clin Endocrinol Metab. 1999;84:2638–2646