Insemination is often abbreviated to IUI, - intrauterine insemination-.
Intrauterine insemination is used in cases with moderate reduced sperm quality, irregular ovulations or unexplained infertility. The pregnancy rate for IUI is app. 15 % per cycle, and is often used in series af 3-6 treatments. If then not pregnant IVF is suggested as the next step.
The insemination procedure is simple and painless. A smooth catheter with the cleaned sperm sample is introduced to the uterine cavity and the semen sample is then deposited into the tubes, where the fertilisation takes place. Hereby is the fertilisation, timing corrected and a better chance for pregnancy is achieved.
Insemination is performed with the husband's spermcells, this is called IUIH, or with donor sperm cells, this is called IUID. Donor sperm cells are used when the man's sperm quality is very poor, or if he does not produce any sperm cells at all.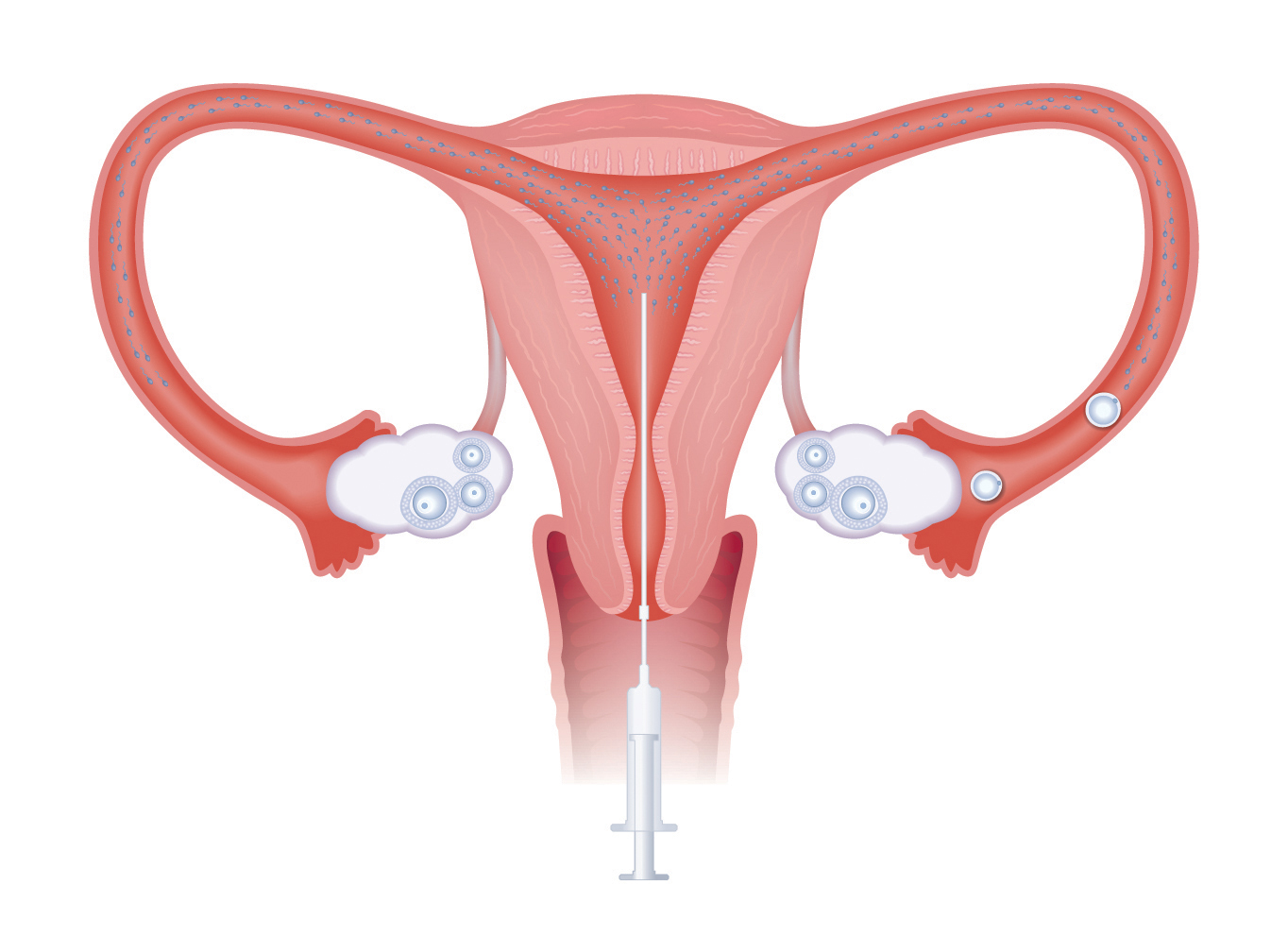 Illustration kindly provided by Ferring
The doctor wants to ensure the best results by investigating the following:
The woman has ovulation, or ovulation can be induced by hormones.
The woman has a normal open tubes.
The woman has been examined for chlamydia, German measles, and PAP smear.
The couple has been examined for contagious or hereditable diseases.
The man's semen must contain a sufficient quantity of suitable sperm cellsfor the treatment.
Insemination step by step:
Below you can see what happens through out the treatment, in short terms:
1. Preliminary consultation with the doctor
Here we make sure that you are well informed about your treatment.
2. Examination for infertility
The couple is examined for causes of infertility.
3. Mild hormone stimulation
The woman gets a mild hormone stimulation to regulate the egg production and the time of ovulation.
4. Ultrasoundscan of the follicles
To determine the right time for insemination.
5. Ovulationtest / ovulation injection
Secure that the ovulation and the insemination take place on the exact same time.
6. Insemination with the husband's sperm cells at IUIH or with donor sperm cells at IUID.
Is normally performed on two successive days to increase the probability of pregnancy.
7. Pregnancy test.
About donor sperm cells
Donor is always anonymous, the anonymity works both ways, and neither you nor we can ever get information about the name of the donor. The laboratory technician on the basis of the man's eye colour, hair colour, weight, height, and race selects the donor.
To be approved as a sperm cell donor you must not have any special physical indications or have a predisposition to serious hereditable diseases.
The sperm cells are bought at Cryos in Århus. Cryos freezes the sperm cells for at least 6 months before we are allowed to use them. During this period the donor are continuously examined for venereal diseases, including HIV.